Whether you own a home or business, you've probably been affected by the trees on your property. Trees can make buildings look beautiful and appealing when they're healthy and well-maintained. But they can do a lot of damage when they're not. At Mike Forrest Tree Service, we're proud to care for the trees in Odenton, Maryland.
The Best Tree Removal Service in Odenton
Why are we the best tree removal service in Odenton? Because we know our stuff! We understand tree biology, how to keep them healthy, and how to prevent them from damaging your home and landscaping. We know when to prune, trim, stabilize, or remove a tree. And we know the healthiest and best way to do it. So if you live in Odenton, give us a call. We'd love to help with your tree needs!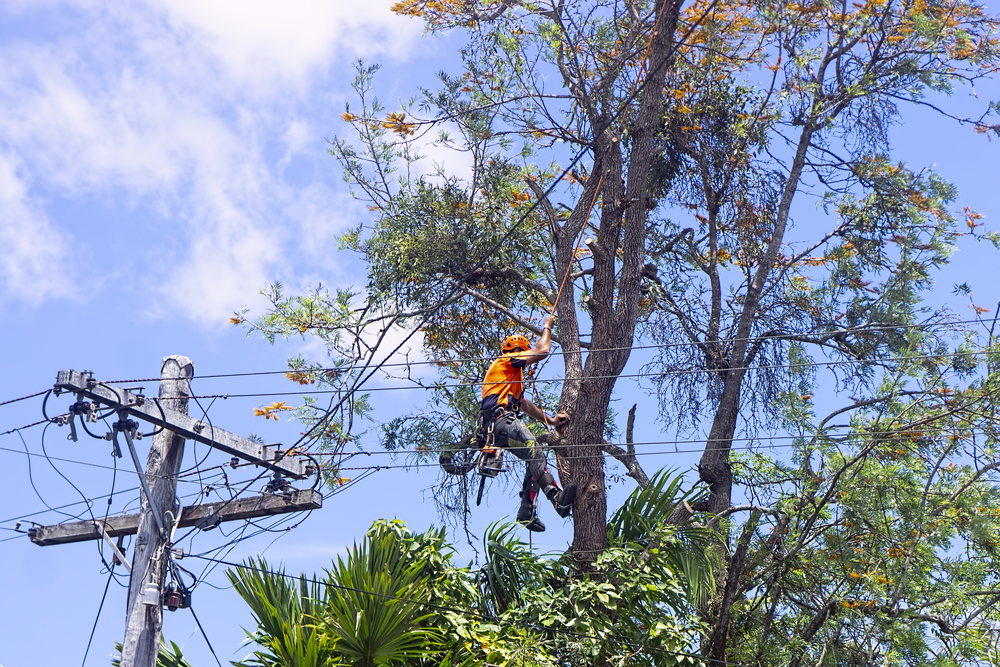 Why Use Mike Forrest Tree Removal Service
100% Satisfaction Guarantee or You Don't Pay!
Licensed Arborists for High-Quality Services
Safe Work Practices
Years of Experiences
Contact Us
Or Fill Out The Form Below To Get A FREE ESTIMATE
We Are Certified, Insured Arborists & Tree Surgeons
What is a Certified Arborist? A certified arborist is a person who's trained to plant, care for, and maintain trees the right way. Arborists are educated on the science and art of tree care.
You wouldn't hire some guy off the street to do surgery on you, would you? We feel the same way about taking care of the numerous trees in Odenton. If not taken care of with caution, they can cause severe damage to your home, your family, or you. We take our responsibility seriously to ensure that no one gets hurt and no property is damaged.
Services We Provide
High-Risk Tree Removal
Storm Damage Restoration
Tree Trimming
Tree Pruning
Stump Grinding
Residential and Commercial Tree Services
High-Risk Tree Removal
Tree removal can be dangerous. If the tree is located near a power line, an inexperienced person attempting to remove it risks electrocution and power outages to their entire neighborhood. And any tree removal project is dangerous if you don't have the right tools and protective equipment. It's also important to watch out for rotting wood. This decay will make the tree unstable and it could fall in unexpected ways, possibly harming you or landing on your house.
If you're in need of high-risk tree removal services, we urge you not to put yourself in harm's way. Is the tree close to a power line? Is it leaning over your roof? Do you suspect that the tree is unstable? Then take a picture and give us a call! When a tree poses a threat, don't risk your safety. And if you can't find a safe way to exit your home, call 911.
Storm Damage Restoration
High winds, flash flooding, heavy rain, and lightning strikes can all cause a lot of damage. In a bad storm, the trees on your property could fall on your home damaging the roof, gutters, siding, and windows. A mature tree could even collapse a portion of your house.
When trees fall, they can also block roadways and driveways or damage your yard. The team at Mike Forrest Tree Removal Service can get those trees cleared away in a jiffy so that you can get back to normal in no time. Do you need storm damage restoration services? Give us a call.
Or Fill Out The Form Below To Get A FREE ESTIMATE
Trimming and Pruning
"An ounce of prevention is worth a pound of cure."

-Benjamin Franklin
Preventative steps can save time, money, and, more importantly, lives. Tree trimming will help keep large branches from falling off during a storm and landing on you or your house. Cutting branches away from your home can also prevent squirrels from climbing into your roof or insects invading your home.
A licensed arborist also knows how to trim a tree and direct growth so that branches move away from structures and dangerous power lines.
Some trees may need pruning, and who better than a certified arborist to know best what to cut on that maple or oak? Not only do we make sure your trees are not threatening you or your property, but we also help increase curb appeal with our expert tree pruning.
Stump Grinding
We are not a stump grinding company, but getting those unsightly stumps out of the way after removing a tree is part of what we do. We remove the tree to the ground. Once we ground the stump to be level with the yard's surface, the roots will die, and there will be no tree regrowing in that spot.
Why Safety is Important
We care about safety. When we take down trees, we make sure that we don't endanger any people or property. We take precautions when we take trees down and make sure that we have the equipment we need and the ability to take it away.
When safety is done right, no one is hurt, no property gets damaged, and it even keeps our costs down.
Why Do We Trim Branches Before We Fell A Tree
Trimming branches is all part of safety. We know how to cut branches to avoid getting hit by the tree or the branches when the tree falls. After we get the tree down, we can then chop it up into manageable pieces.
DIY or Professional Tree Trimming – Which is Better?
Tree trimming is hazardous work. So, think about your skill level, the size of the tree, and the amount of work that's required. This will help you determine when it's time to pick up the phone and call the pros.
If the tree is over 20 feet tall – it needs to be de-branched, topped, secured with a safety line, and pulled in the direction you want the tree to fall. A vee gets cut into the tree to encourage it to drop where we want, but that is no guarantee. A professional will know how to do the job safely.
That's where we come in. We don't want you to risk your safety. So let Mike Forrest Tree Service handle the dangerous work for you. Give us a call to take care of your Odenton property today!
We Proudly Service Odenton, Maryland
With a golf center, escape rooms, and Kidz City, Odenton has something for every member of the family. Odenton's history stretches back to World War I. Find out what landmarks in Odenton are listed on the National Register of Historic Places by visiting the Odenton Heritage Society.
Other Areas in Anne Arundel County We Service
Annapolis
Glen Burnie
Pasadena
Crofton
Severna Park
Severn
Millersville
Edgewater
Gambrills
Arnold
Fort Meade
Friendship
Linthicum Heights
Deale
Crownsville
Brooklyn Park
Shady Side
Cape Saint Claire
Mayo
Galesville
Ferndale
Lake Shore
Riviera Beach
Riva
Parole
Maryland City
Russett
Londontowne
Arden-on-the-Severn
Selby-on-the-Bay
Herald Harbor
Highland Beach
Not located in Anne Arundel County? We also provide tree services in Prince George's County.
Or Fill Out The Form Below To Get A FREE ESTIMATE